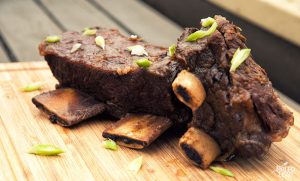 NGREDIENTS
1.8KG of BMS Brisket or Short rib
½ Cup fresh chopped parsley
½ cup chopped celery
½ cup chopped carrots
½ cup chopped mushrooms
½ cup chopped onions
1 tbs salt
1 tsp of ground pepper
2 bay leaves
1 tsp of thyme
SAUCE
3 tbs of flour
1 tbs mustard
1 tbs Worcestershire sauce
½ cup of fresh cream
PREPARATION
Place BMS brisket in a pot and cover with water completely.
Add all brisket ingredients
Bring to a boil and then turn heat down to low and cover. Allow to cook for 2 ½ hours or until the meat is soft.
Remove the meat and the vegetables from the broth.
In the broth, add your sauce ingredients, stir until thick sauce for about 5 min
Place vegetables and meat into the cooked sauce.
Turn off the stove, place lid and allow to absorb the sauce.
Serve with rice or pasta.
Shop Now