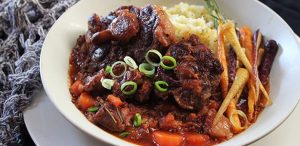 INGREDIENTS NEEDED:
5kg – Bms Ox Tail
1 Cup – Finely chopped Onions
1 Cup – Chopped Tomatoes
1 Cup – Chopped Carrots
4 Houses – Garlic
1 Stick – Fresh rosemary
4 – Fresh Bay leaves
500ml – Coke
2 Tbs – Salt
¼ Tbs – Black pepper
1 Block – Beef Knorr
2 Tbs – Ox tail soup
1/3 Cup – Olive oil
PREPARATIONS:
Place your pot on the stove at high temp.
Place your olive oil, BMS Ox tail and your coke into the pot with your beef Knorr cube.
Boil for 45min, or until the coke evaporates into a thick sauce. Remove from stove.
Place the BMS ox tail into a oven dish place the balance of all the above ingredients into the dish
Add ½ cup water and cover with a lid. Place in the oven at 150 C for 2 hours, keep checking if needed add a little water.
Once the meat is soft and tender remove from the oven.
Serving suggestion:
Jack of potato or rice / stamp and BMS carrots