by J Something
Ingredients:
Two whole baby chickens (spatchocked)
Coarse salt to rub
Ground black pepper to rub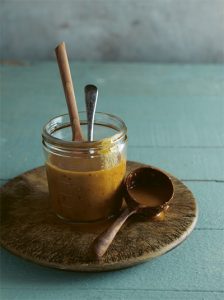 For the Marinade:
2 cups good olive oil
8 cloves garlic, crushed
Juice of one lemon, freshly squeezed
2 tsps onion powder
Good sprinkle of Aromat
2 red chillies, chopped
Few dashes Tabasco sauce
1 tsps paprika
Generous glug of good quality piri piri sauce
Method:
Rub both chickens with coarse salt and ground black pepper
Place all the marinade ingredients together in a large baking dish and mix well to combine
Place both chickens in the marinade and allow them to rest for at least one hour
Place the chickens on the braai, turning every now and then, until cooked through
One the chickens are cooked, remove them from the braai and toss them in the basting sauce. Coat well, return them to the braai and cook until the basting sauce has browned and set. Turn the chickens to brown them all over.
Serve the whole chickens straight from the braai.