Sometimes the most unlikely combinations of foods make for the most sensational tastes. The key to making memorable foods is to be adventurous ad creative. The following are the instructions and ingredients for making delicious sausage muffins, a surprisingly scrumptious snack.
Sausage Muffin Ingredients
1 cup all-purpose flour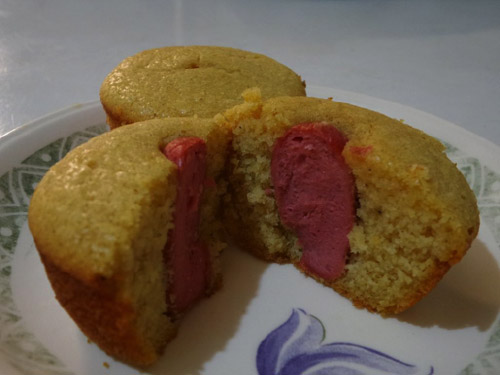 ½ tsp Baking powder
2-4 tbsp. Sugar (to taste)
½ cup Melted salted butter
¼ cup Milk
1 tsp vanilla extract
2 large eggs (for the batter)
Non-stick spray or melted butter for brushing muffin pan
Filling
3 large sausages cut into three each
PREPARATION
Add the 2 eggs and sugar in a mixing bowl and whisk until the sugar dissolves which is about 2 minutes
Add the all-purpose flour, baking powder, melted salted butter, milk and vanilla essence into the bowl. Mix until you have a batter with no lumps.
Prepare the muffin pan by brushing lightly with melted butter or spray with non-stick spray.
Spoon 2-3 tablespoon batter evenly into each muffin pan. Place the sausage in the middle of the batter or however you like it and place in the oven.
Bake in preheated oven at 180c for 15-20 minutes or until golden brown.
Here you have your Sausage Muffins; Serve warm and enjoy