A little twist on the traditional tandoori chicken but this dish is guaranteed to wow your guests at the dinner table. It is a fitting meal for an outdoor lunch, or for hosting friends and family around a dinner table. The yogurt can be jazzed up by adding some chilli for a little extra spice.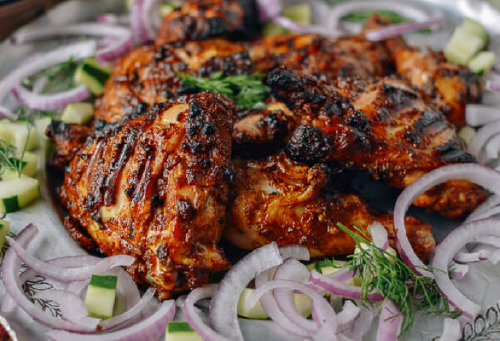 INGREDIENTS
1 whole chicken
3 cup plain yogurt
2 tsp cumin powder
2 tsp coriander powder
2 tsp chili powder
2 tsp garam masala
3 tsp turmeric
2 tsp tomato paste
3 whole lemons
1 bunch cilantro
WHAT TO DO
For the marinate
In a bowl mix 2 cups of yogurt, all the spices, tomato paste, juice 1 lemon and 2 tsp olive oil mix well. Rub marinate over the chicken well. Let it marinate for a few hours. For best flavour results, marinade overnight.
Pre- heat over at 170 degrees… take one lemon and poke small holes in it. Stuff it in the chicken carcass. It will keep the chicken moist while it roasts.
Season chicken with salt and pepper.
Roast for 35 min or until done.
For cilantro
In a blender, add remaining yogurt, cilantro and the juice of 1 lemon seasoned with salt and pepper.
Blend until smooth.
To serve squeeze the roasted lemon from the chicken carcass over the chicken and serve with the cilantro yogurt, Naan bread and green salad of your choice.
Shop Now