BY J' SOMETHING
Chef's note: This Potjie triggers so many memories for me… One of the most relaxing methods of cooking has to be cooking in a potjie – or a "drievoet", as my wife likes to call it. Uncle Elton, my best friend Brent's dad, would spend the whole day around that pot and I just never understood it, not until I started making my own potjies at home. This is my tribute to the famous Williams's potjie on Currie Street.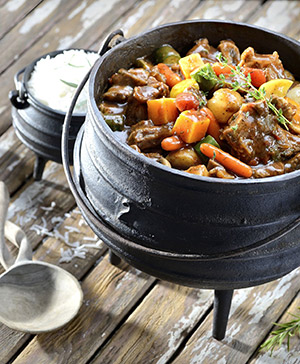 INGREDIENTS:
¼ cup olive oil
1 large onion
4 carrots (2 finely chopped; 2 roughly chopped
3 celery sticks, finely chopped
3 cloves garlic, finely chopped
1 tbsp paprika
150g minced chourico
1kg lamb knuckles, dusted in flour
1 cup red wine
2 cans chopped tomatoes
1tbsp brown sugar
4 cups lamb (or beef) stock
4 potatoes, roughly chopped
300g green beans
1 can cannellini beans
METHOD:
Heat the olive oil in a pot, add the onion, finely chopped carrots, celery, garlic, paprika and chourico. Fry until the vegetables have softened, then remove from pot and set aside.
Place the knuckles into the pot and cook until browned. Return the vegetable mixture to the pot.
Add the red wine and allow to reduce. Once reduced, add the tomatoes and sugar, and allow to simmer for about 10 minutes.
Add the stock, roughly chopped carrots and potatoes. Cook for 1 – 2 hours or until the meat us nice and tender.
Lastly, add the green beans and cannellini beans, and cook for a further 10 minutes – and you are done!
Best served with rice.