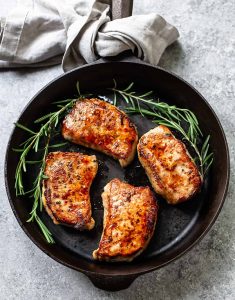 Ingredients
4 BMS Pork Braai Chops
2 Houses of garlic, peeled
2 Branches of fresh Rosemary
4 Tabelspoons Olive Oil
1/2 Teaspoon of salt
2 Tablespoons of Butter
Preparation
Place a pan on stove at high heat.
Place the BMS Pork Braai Chops , butter and Olive oil in the pan and flash-fry to seal the meat.
Turn heat down to medium.
Add all other ingredients in the pan and fry until the meat is well done.
Serve with Mash and Peas.
Shop Now