A perfectly cooked gammon is great on Christmas Day and even better for anytime sandwiches afterwards.
The first step to your gammon lunch is choosing a gammon that suits your dining table. Your best option would be a boned joint. It cooks easily and is also great for carving.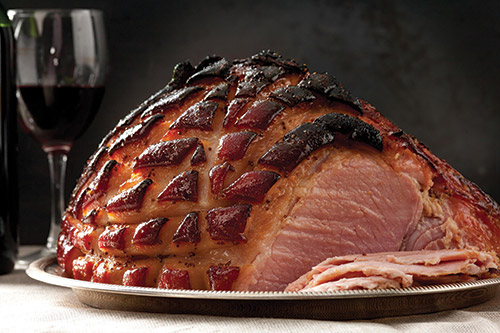 If you decide to cook your gammon at home, always check the weight on the packaging. You will need to know this to approximate the ideal cooking time.
Rinse the joint under the cold running water. Make sure you have a sauce pan or cooking pot that is large enough to fit both the gammon and enough liquid to cover it.
When cooking, calculate your cooking time so as to allow 20 minutes for every 500g.
Place the gammon on a trivet, petal steamer, or side plate inside the pot. This will prevent the gammon from catching on the bottom of the pot.
Now, you may add aromatics of your choice. Combinations of onions, carrots, celery, cloves, herbs and spice often yield the best results.
Thereafter, cover with liquid. Bring to a boil, reduce heat and gently simmer for the calculated time.
To check if the gammon is cooked, pierce the thickest part with a skewer. If it glides in easily, your gammon is perfectly cooked. If the gammon truly special is the perfect glaze. Find one that best suits your taste buds.
Remove the gammon from the broth and carefully pull away the skin. (If you feel the need to, you may slice with a small knife.)
Using a sharp knife, score the fat in a criss cross pattern to make diamond shapes. Firmly place a clove in the middle of each diamond. Place the gammon on a baking tray lined with a double layer of foil.
Preheat the oven to 220 degrees Celsius. Using a pastry brush paint the gammon with the glaze of your choice. Rest for 20 minutes or until the gammon is of a rich, shiny colour.
Allow the roasted gammon to rest for 20 minutes before serving.
Once cooked it can be served hot or cold, however you may best prefer it.
Shop Now