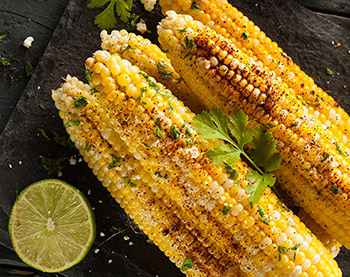 MAE'S POPPING CORN
INGREDIENTS:
-4 mielies
-juice of 2 lemons
-cumin, to dust
-dried oregano, to dust (quite a lot!)
-1 teaspoon Worcestershire sauce for each mealie
-olive oil
-salt and pepper to taste
METHOD:
Dress each mealie with the lemon juice, cumin, oregano, Worcestershire sauce, olive oil, salt and pepper.
Allow the mealies to rest in the fridge for at least 2 hours, then remove 1 hour prior to braaiing. Braai the mealies until kernels are soft to your liking.
---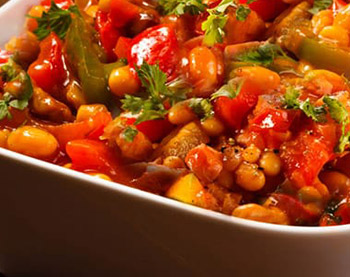 J's CHAKALAKA
INGREDIENTS:
-1/4 cup sunflower oil
-1/2 large onion, diced
-1 green pepper, de-seeded and diced
-20ml hot curry powder
-2 large carrots, peeled and grated
-3 large tomatoes, grated
-1 small red chilli, finely chopped
-1/2 can baked beans in tomato sauce
-salt and pepper to taste
-1 cup hot vegetable atchar
METHOD:
Warm the sunflower oil in a pot over a medium heat, then add the onion and green pepper and fry until soft.
Add the curry powder and fry for 1 minute until fragrant.
Add the carrots, tomatoes, chilli and beans. Mix well.
Allow to cook on a medium heat for about 15 minutes, stirring about every 5 minutes so that the chakalaka does not stick to the bottom of the pot.
Season with salt and pepper and leave to cook for another 5 minutes.
Decant into a large bowl and allow to cool
Once cooled, add the vegetables atchar, stir well and serve.
---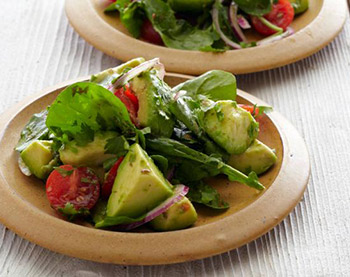 THE FONSECA SALAD
INGREDIENTS:
-6 Large tomatoes, cut into chunks
-1 cucumber, cut into chunks
-1 red onion, sliced into half moons
-2 avocadoes, cut into chunks
-200g kalamata olives
-1/4 cup olive oil
-1/4 cup red wine vinegar
-generous amount salt and ground pepper to taste.
METHOD:
Place the tomatoes, cucumber, onion, avocado and olives into a bowl.
Whisk together the olive oil and red wine vinegar to make a dressing.
Pour the dressing over the salad and season with salt and pepper.
Toss the salad well to coat evenly.
Serve chilled.