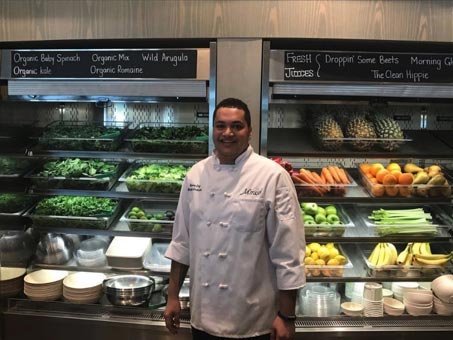 #FoodieFridays and #ChefModeSundays is graciously made possible by young South African and Durban nurtured, Chef Mitchell Brett Govender. This flavourful and wholesome feature, reintroduces good food recipes that we hope will inspire cherished mealtime memories and tantalized taste buds.
If we are going to invite Chef Mitchell into our homes and kitchens, we thought it would be a good idea to help our customer family to get to know this talented chef.
Our Brand Manager played a 15 question spin off to "21 Question", and this is what she found out about him.
Mitchell, who is a former Durban boy, currently resides in West Palm Beach, Florida. The 28-year-old, is currently a resident Chef at The Country Club at Mirasol. Although it is his hometown that he misses, his favourite destination is New York City.
Mitchell, who is avid foodie, enjoys watching movies and Liverpool play, when he is not cooking or reading food related articles.
If given a choice, Mitchell would choose to cook his favourite meal with his mother, who is the inspiration behind his passion and enthusiasm for food. Having learnt enough to spark a professional obsession of food from his mom, Mitchell insists that this would not even be a choice he would need to think about.
Although his Roasted Chicken Ramen is a meal that he will take with him everywhere, Chef Mitchell personally prefers Asian food. In true foodie fashion, he admits to having a sweet guilty pleasure – Ice Cream.
After long shifts and strenuous days, Mitchell finds comforts on his couch but    his true love is his chef's knife.
We asked Chef Mitchel, a few questions about home, to which he responded;
What was the last home cooked South African meal that was shared with your family?
It was Mutton Curry.
What was your favourite childhood home food?
That would be Dhal and Rice.
Is there a message that you would like to share with your family and friends back home?
I would love to tell my family and friends that I love them and I cannot wait to visit home soon to share my love of food with them and to cook for them.
"I would love to share foods and recipes of dishes that have changed my life, my career and inspired me as a chef. Food is a big part of my life. It has taken me to places I never thought, in my wildest dreams, I would see. Because of my passion I and running my own kitchen in a platinum country club. Being a chef is a lot of hard work. People don't understand the pressure of working in a professional kitchen. But I love my job and I love food. I take a lot of pride and put in a lot of hard work, long hours and love into my work… I'm hoping this story and recipes I share will touch people and inspire them. I hope that they will share it with their family and friends. There is no better feeling in the world sitting at a dinner table with people you love sharing a homecooked meal," said Chef Mitchell.
Find out more about Chef Mitchel by having a look at his Instagram – chefmitchell89.
To recreate and enjoy some of his scrumptious creations, check our website and social media pages on Fridays and Sundays, starting next week.